Ben Mitchell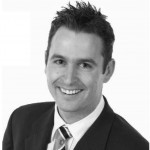 Ben joined the NSW corporate team, as a Business Development Executive, after selling his Ray White business' in the Illawarra in 2009.
Running multiple offices, Ben developed the appropriate skills to take his office to the top five regional Business' in the Ray White Network every year since joining in 2002 with his business partner Robert Anstee.
Being heavily involved in the growth of the Ray White Illawarra network, Ben is aware of the importance of running a cohesive and focused network. This was realised when the Illawarra group of offices surpassed 25% market share, off the back of the very principles Ray White stands for. The highest Market and people share, by the length of a straight for that region.
On the back of this achievement, Ben and his business partner Robert Anstee were recognised for their outstanding contribution to the growth of the network in 2004, by winning the Directors Cup at the annual awards.
Ben, who already has an impressive sales record in Real Estate, made his mark in 1997- at age 19 in his first year- and is recognised today as one of the industry's top sales executives. Ben's remarkable record was acknowledged as the 2001 Real Estate Institute Illawarra Salesperson of the Year. He achieved record figures in the southern area with 22 sales in one month- six in one day- and record-breaking gross commissions.
In 2002, Ben won the Illawarra Zone, Novice Auctioneering competition; where he went onto compete in the State finals, coming second overall. Since then, Ben has furthered not only his Auction skills, but his education also. Becoming a licensed Agent, Stock, Station and Auctioneer, Ben has conducted over 1500 Auctions, throughout NSW.